New Homes for the Sheep
It's December 15 and I want to announce winners of the cuddly, stuffed sheep. I'm delighted that those who became shepherds passed along the book and provided others with an opportunity to read A Hidden Truth.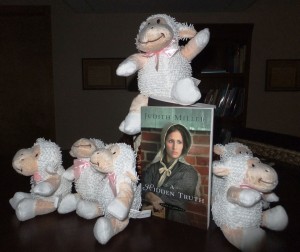 When we began this venture, I said I would draw a name from the five flocks that moved their book to the highest number of people and send one of the stuffed sheep. We had a three-way tie between White Suffolk,Lincoln,Shropshire, and Icelandic so I had to draw for the final two flocks that would be winners. A name was drawn from each of the inning flocks and those who will receive a cuddly stuffed sheep are as follows:
Australian Merino with 7 moves—Rosie Curran-Benger
Hampshire with 6 moves—Rachel Kieser
Cambridgewith 5 moves—Lori Kessler
Icelandic with 3 moves-Diane Estrella
Lincolnwith 3 moves—Chelsea Boland
I NEED EACH OF YOU TO SEND ME YOUR MAILING ADDRESSES SO THAT I CAN MAIL YOU YOUR SHEEP!!
I would love to keep the books moving along and hope that you'll encourage the next reader to send me their information. If so, I'll keep posting on the flock page so we can see how far the books eventually travel. Just because we've ended the actual contest doesn't mean the books can't continue to circulate. So, I hope you'll all agree to unlock the paddock gates and turn the sheep over to additional readers. Do ask them to keep me notified and I'll list them on the "flocks" page.
Thank you all for participating and blessings to each of you during this Christmas Season.
~Judy