A Patchwork Christmas Contest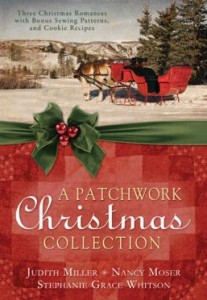 A Patchwork Christmas is an anthology of three novellas that revolve around Christmas and quilts. At the back of the book are directions to make:

• a doll quilt like the one Molly makes in "A Patchwork Love" (one similar to this photo)

• a pair of mittens made from the Amana pattern mentioned in "Seams like Love"

• a crazy quilt ornament made in the style of the quilt in the "The Bridal Quilt."
How would you like to win one of these items?
To enter the contest… you need to collect three KEY WORDS from each of our websites. Your key word for my site is: KNIT.
Now visit www.stephaniewhitson.com and www.nancymoser.com and collect their key words. Once you have collected all three key words, simply e-mail them to: apatchworkchristmas@gmail.com along with a shipping address in case you win one of the three prizes. (You can state your preference of which prize you would prefer if you wish, but we cannot guarantee that we will be able to make that wish come true.) Your entry must arrive by noon on December 1, 2012. On December 2, 2012, a random drawing will award three entrants with either the doll quilt, the mittens, or the ornament. Good luck!
I'd also like to invite you to subscribe to my newsletter so that you will receive new book news, but you do not need to subscribe to be eligible to win one of the three prizes.
Thanks for visiting, and may your holidays be bright!
Sign up for Judy's newsletter using the "Newsletter Sign Up" form to the right!