Traveling Book Contest
WELCOME!
This isn't your typical contest, so please read on to learn more. I have sent out ten copies of A Hidden Truth, my latest release set in the Amana Colonies. As time passes, we'll be following the books on my website to see how far they travel.
If you did NOT receive one of the traveling books, but have read A Hidden Truth, please leave your name and email address along with a comment telling me your favorite character in the book. From among those readers, I will conduct a drawing of 50 names on December 15, 2012, and will email the 50 winners for your mailing addresses. Each of those 50 readers will receive a small gift. Even though you didn't receive a traveling book, I hope you'll come back to the website often to check the progress of the traveling books.
If you DID receive one of the traveling books which I sometimes refer to as traveling "sheep," I'd ask that you read the book and pass it along as quickly as possible. In case you're wondering why I'm occasionally referring to the books as "sheep," it's because sheep play a role in this book.
About Passing Along the Traveling Book:
Because we want the traveling books (there are eleven) to be shared with as many people as possible, we're asking that you read it as soon as possible and then pass it to a friend, someone who is ill, someone you believe needs the Shepherd's touch. Ask the recipient to do the same—read the book and pass it along. When you pass the book, make sure the recipients understand they are to read it, pass it along and fill out the form on this website or on the postcard. There are brief instructions inside the book.
About the Form:
For those with traveling books, after you've read the book, I'd be grateful if you would fill out the form below.
To show my appreciation for your participation, I'd like to send you a small gift. You will need to post your mailing address in the form below. (Only your city and state will be shown on the website, not your street address). If you don't wish to receive a gift, then you need not leave your street address, but please post your city and state as it will help us track the whereabouts of the "sheep." The form also requests you list the name of your flock as well as the city and state of the person to whom you have given the book. This is a way for us to track the books on their journey. Please keep the "sheep" within the U.S. in order to keep them swiftly on their travels—unless you've received the Australian Merino and it should be kept in Australia. There is a space to leave a message about the book and/or to encourage other readers.
I'll be doing some blogs to give you updates and you'll be able to check comments on the contest page to see how much progress your "sheep" is making along the journey.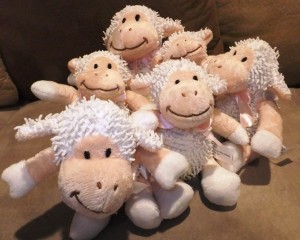 The Flocks are named: Cotswold, Cambridge, Lincoln, White Suffolk, Ryeland, Rhoen, American Romney, Icelandic, Hampshire, Shropshire, Australian Merino. (If you're counting, that's really eleven sheep, but the Australian Merino escaped to Australia and will be our only sheep traveling outside the United States. If you're interested in seeing a picture of each breed, you can go to: http://www.sheep101.info/breeds.html to learn more.
On December 15, I'll conduct a drawing from the five flocks that have the most readers. One person from each of those flocks will receive one of these cute little sheep (not the live ones—the stuffed animals). So read quickly, post your information, and send your "sheep" along the way.
PLEASE FILL OUT THE FORM BELOW AFTER YOU'VE READ THE BOOK.
An asterisk ( * ) Indicates a required field.