Newsletter
Summer 2013
Dear Friends,
It's hard to believe it is already July! The older I get, the more rapidly time flies — at least that's how it seems to me. I hope you're enjoying summer with some good books!
Summer Plans:
This summer I'll be doing some traveling for research and to visit family in West Virginia and Michigan. While in Michigan, I'm hoping for a visit to the Upper Peninsula, Mackinaw Island, and several historic sites. While in West Virginia, I'll be scoping out some historic sites, as well. A vacation just isn't a vacation without visits to old mansions, historic museums, or anyplace that's connected with history. Come Fall, I'm looking forward to visiting Ireland. Some of my paternal ancestry harkens back to the Scots-Irish which adds an additional layer of excitement to the visit.
Recent Trips:
On a trip in early spring, I returned to the Amana Colonies for a bit more research. While there I was excited to see new exhibits in their history museum. One of the items featured was this walnut hand-carved, secret-compartment chest made in Augsburg, Germany, circa 1750. Inside there are 12 visible drawers, but there are also 18 hidden compartments — ten drawers located behind a removable door panel. Now that takes some super sleuthing!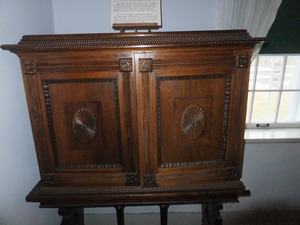 Along the way, I stopped in Omaha for a tour of Joselyn Castle. It's really a mansion, but folks began referring to it as a castle when it was constructed and you can see why!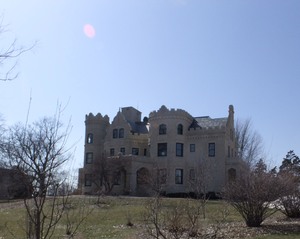 On that same trip, I stopped at an antique car museum and couldn't resist snapping a picture of this Sears Runabout. I don't know about you, but I didn't know Sears ever manufactured cars! I learned Sears only remained in the automobile business for four years — from 1908 to 1912.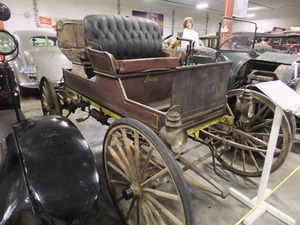 My Book News: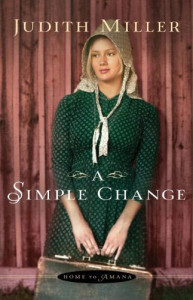 I'm happy to tell you that the second book in the Home to Amana series, A Simple Change is scheduled to release the end of July. I hope you'll look for it at your favorite bookstore or download it to your electronic device. For those of you who don't want to forget, it can be pre-ordered right now from any of your favorite distributors. A Simple Change takes your to Middle Amana where you will be introduced to a new cast of characters that I believe you'll very much enjoy. A review of A Simple Change in Romantic Times says: The second book in the Home to Amana series has an excellent balance of amazing characters and careful research. The 1880s Amana Colonies come to life in this romance.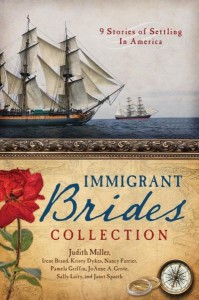 I have recently completed the third and final book in this series, titled A Shining Light, set in West Amana. It will release in March 2014. And if you're looking for a place to visit this summer, The Amana Colonies, located in Iowa, are always a wonderful choice!
The Immigrant Brides Collection released this month. The book contains nine novellas that tell the stories of nine young women who leave their homelands to pursue the American dream. Two of my novellas, The Blessing Basket and The Golden Cord are included in the collection.
Other News:
On August 19-31, a contest begins on The Book Club Network. Toward the end of the month, I'll be interacting with readers and free copies of A Simple Change will be offered.
In the Company of Secrets, book 1 in the Postcards from Pullman series is free for download on your reading devices until August 31, 2013.
A Daughter's Inheritance, book 1 in the Broadmoor series is also free for download on your devices until August 31, 2013.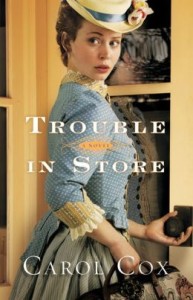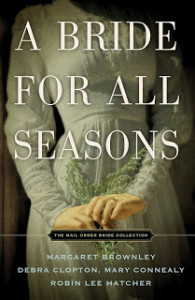 Carol Cox's new book, Trouble in Store, will delight those who enjoy historical fiction. And for those who enjoy four-in-ones, there's a new one titled A Bride for All Seasons that is authored by Margaret Brownly, Debra Clopton, Mary Connealy, and Robin Lee Hatcher. I received an advance copy and it is pure reading pleasure!
Blessings,