Exciting News!
Hey Friends,
I wanted to give you a heads-up that Bethany House Publishers is hosting a Facebook Party on November 4th (5pm PST/6pm MST/7pm CST/8pm EST) to celebrate the release of The Brickmaker's Bride. Just click on this link and you'll be directed to my Facebook page where you can register to win a Kindle HDX and lots of other prizes throughout the evening.
Library Journal has given The Brickmaker's Bride a starred review and said: "A well-constructed plot and believable characters demonstrate why Miller (A Simple Change) is popular with fans of historical fiction and romance. The characters' faith is woven seamlessly into their actions and is organically integrated into the plot, making this title a must-read."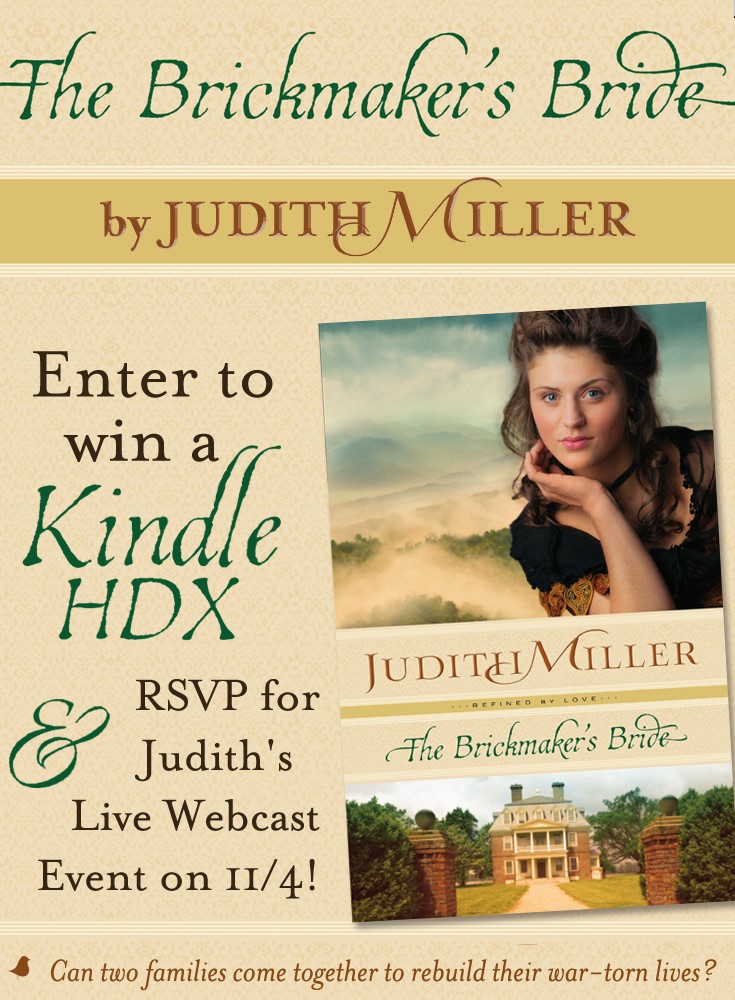 This series is near and dear to my heart and during our time together at the Facebook Party, I'll be telling you a little about my research and some of the fun "family ties" that I was able to weave into this story. I'm also going to give you a little peek into the second book in the series, The Potter's Lady.
I hope you'll register for the Facebook Party and join me on November 4th (5pm PST/6pm MST/7pm CST/8pm EST.)
Stock up on your favorite coffee, tea, and chocolate and let's have some fun exploring the world of books!
Blessings,
Judy